3D printing for analysis of Flood, water flow around river.
Nice tool for local river side sight map of your city, Mayor!
Printable any kind of colouring like Satellite map, original map, picture, in Full color.
Jumo have a ability to create 3D landscape with river shape,terrain surface.
If you want a 3D object around some famous river, we place them onto the real ground (terrain) surface Map.
I want to have a 3D map of our famous class A river as guide map.
We need to prepare a nearby river's hazadous map by flood.
Offering an simulation object for water flow in our region.
Want to display a whole water sytem from headspring to the sea.
Need 3D map for flood prevention work explanation to citizes.

World famous river, Danube in Europe.
Wide spreaded size in 3D printing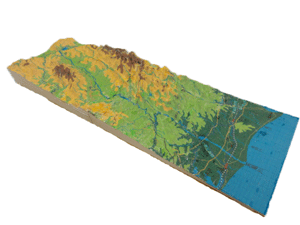 Tenryu, a japanese famous river
3D printed materia for sight seeing and guide map
Jumbo's full color 3D printing service can provide you a nice material as you wish in low price and in short time.

 
   Click here if you have any question. ⇒ 【Open inquiry form】
If you want to know furthermore about 3D Map, please look at this page also.
↓ ↓ ↓
Show me more about 3D printing
Not only 3D modeling / 3D Geography products...
Jumbo can provide additional and relational services all in-house.
Preparation for Mailing/Dispatch our relief for a meeting, with sealing, insertion of envelopes.
Packing and dispatch with nice, graceful frames, acrylic case.
Surface finishing, lustrous finish, brushing and metal spraying.
Available for small amount and mass production using vacuum forming technique.
If you have some question or request, please feel free to ask Jumbo. →【Open inquiry form】