Now and day, It's getting more risky such a disasters like Typhoon, High tide, a Flood by Global warming
Administrative like your City, State, must take some control against such disaster
There are nice tools, if using Disaster 3D MAP, in any cases
JUMBO create expected dangerous area in full color.
We JUMBO produce any kind of disaster 3D MAP for your/ your city purpose.
Wanna see a 3D MAP by sea level rising after decades later
Need a 3D MAP by suffering huge tsunami in my city
Want to view a effect by Typhoon, or flood in 3D Model
Want a 3D mapping Model shown dangerous area of landslide disaster
Want to see the effect of Tsunami caused by huge earthquake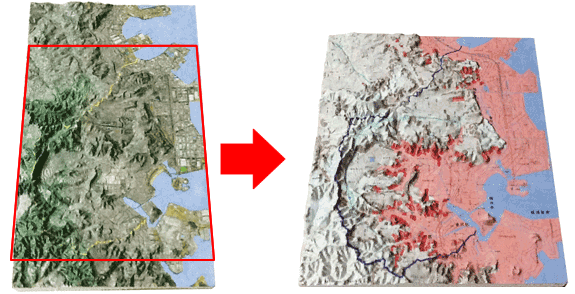 " Tsunami, high tide disaster suffering area in Kanazawa ward, Yokoham, Japan. "
3D Map at left side:
Normal 3D Map at Kanazawa ward
  Using Aerophotography texture map in full color
3D Map at right side:
Suffering area of flood disaster at same region
In Pink:13 meter, high tide reaching area
In Red :Dangerous for land slide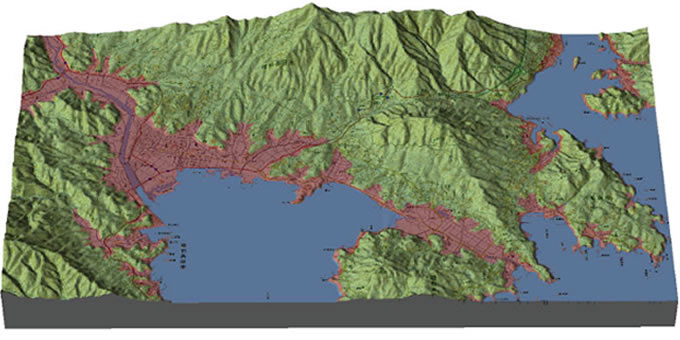 【 Simulation of 20m high tsunami in Rikuzentakata, Japan 】
Jumbo's full color 3D printing service can provide you a nice material as you wish in low price and in short time.

 
   Click here if you have any question. ⇒ 【Open inquiry form】
If you want to know furthermore about 3D Map, please look at this page also.
↓ ↓ ↓
Show me more about 3D printing
Not only 3D modeling / 3D Geography products...
Jumbo can provide additional and relational services all in-house.
Preparation for Mailing/Dispatch our relief for a meeting, with sealing, insertion of envelopes.
Packing and dispatch with nice, graceful frames, acrylic case.
Surface finishing, lustrous finish, brushing and metal spraying.
Available for small amount and mass production using vacuum forming technique.
If you have some question or request, please feel free to ask Jumbo. →【Open inquiry form】